Spotlight
Featured Trainer: Phil Walz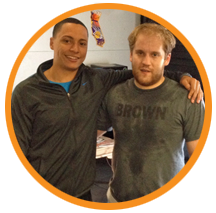 Company: Body Unlimited Fitness Studio
Name: Phil Walz
Occupation: Corrective Exercise Specialist
Location: Studio City, CA, USA
In my experience, TrainerMetrics has been an invaluable tool to my personal training business. By not having to manage client paper work or deciphering old information, I have the ability to quickly calculate fitness statistics and track progress accurately. On average I have cut out 15 minutes of assessment and follow up with a client down to 5 minutes. By cross referencing multiple pillars of health and fitness, programming and periodization has never been easier.
Professionalism is one of the main service points that separates trainers from one another and maintaining digital fitness records continuously makes me stand out amongst my colleagues. My clients love the fact that they can not only take control of their own profile but also delegate other professionals to update their information. This collaboration creates a circle of trust and legitimacy that is invaluable.
TrainerMetrics has helped me retain and grow a business at a rate that I can comfortably make a living doing what I enjoy. Organizing my clients and their different goals saves me time, and like anything else time is money. As someone who has worked in both the corporate and private gym setting, I would highly suggest every health and fitness professional to manage client interactions with TrainerMetrics.

---
---