Product Update
Quick Update: Preparing for More Fitness Assessments & Features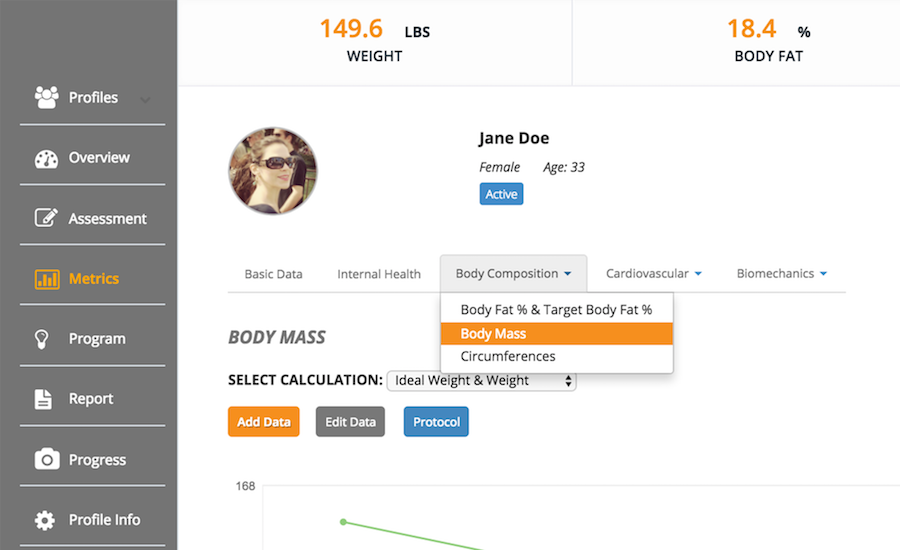 We get it, there are a lot of fitness assessments personal trainers use on a daily, weekly, and monthly basis. And let's be real, variety is best. So how do we plan to pack in all of the assessments you want into TrainerMetrics?
Thanks to our beta community, we are quickly realizing that it's almost time to start adding new assessments. Especially the fun ones like various muscular strength, power, endurance, and flexibility tests.
But before we can start revealing some of our hidden fitness assessments as well as some other goodies…we figured it'd be best to update the navigation first so we can organize and fit all of these power tools in a sensible place.
You will notice that when you are using the "Metrics" feature, there are now drop-downs with sub-categories for most tabs. Each sub-category can have multiple calculations for a single test as well as a graph and table. This frees up a lot of room for more features that eventually will go below each table 😉
In case you are interested what assessments are under each sub-category, here's a quick break down:
Basic Data
Internal Health
Body Composition

Body Fat %

Body Fat %: 3 Site Skinfold (Jackson/Pollock)
Body Fat %: 4 Site Skinfold (Jackson/Pollock)
Body Fat %: 4 Site Skinfold (Durnin/ Womersley)
Body Fat %: 7 Site Skinfold (Jackson/Pollock)
Body Fat %: Bioelectrical Impedance
Body Fat %: Body Girth

Body Mass

Ideal Weight
Lean Body Mass
Fat Mass

Circumferences

Waist to Hip Ratio
4 Site Circumferences
8 Site Circumferences

Cardiovascular

V02Max

V02Max: 1 Mile Walk
V02Max: 3 Minute Step Test
V02Max: 1.5 Mile Run
V02Max: Bruce Test

Resting Heart Rate

Biomechanics

Overhead Squat

Sit & Reach & Trunk Lift
Instead of scrolling down four pages and clicking through three assessments to navigate to the only calculation you want take on your client, now you can just hover over the tabs and click directly to your most used calculations. Once again, we implemented these changes because some of our users were explaining it was too time consuming and scrolling on a phone can be really annoying.
So there you have it, you speak and we listen. Thanks again to our awesome community everyone gets a more useful tool from responding to a single email.
Want to quickly help out? Vote for your top 5 fitness assessments you want us to add:
If you are still reading this and haven't signed up for TrainerMetrics, whats the hold up. Really? It's free to use and we are personal trainers trying to help you leverage the data you are already taking on your clients. Do your client-base a solid and print off their progress,
sign up here
.
Stuck on paper assessment forms? Don't panic, we are too. Download the Fitness Assessment Card below and upload your clients measurements directly to TrainerMetrics.

Physical Fitness Assessment Card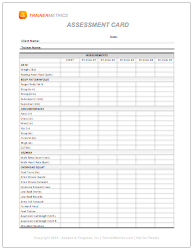 Print Off & Batch Upload Assesments
Complete 360 degree client asssment card.
Body Fat%, VO2Max, Overhead Squat to name a few.
Stay organized and save data.
---
---