Product Update
Trainer Tools
Open Beta, Calling All Personal Trainers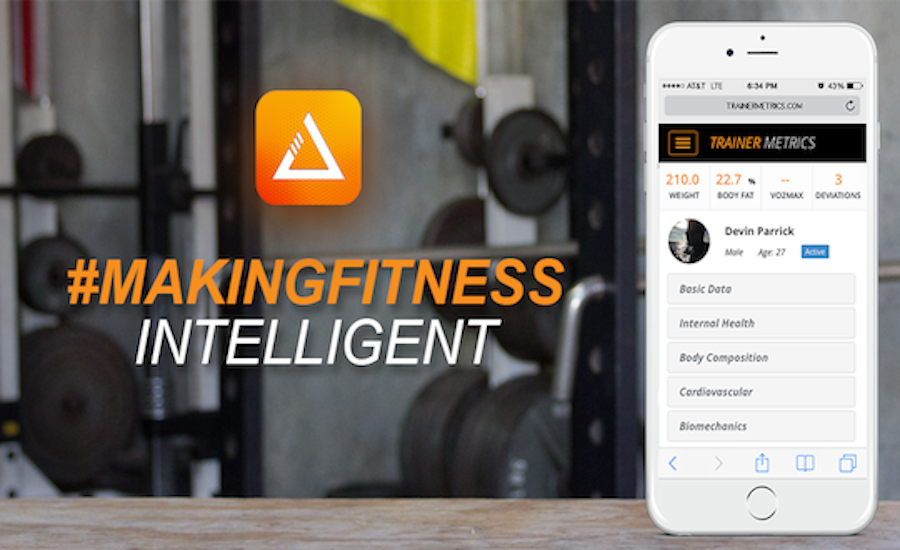 The time has finally come. We are extremely proud and excited to announce the launch of TrainerMetrics Beta, now open to the public.
In early 2011 we began toying with the idea to build the most comprehensive fitness assessment calculator and progress tracking app specifically for the personal training industry.  Over the last 3 years we have released two iOS prototypes (formerly Results) to a select group of fitness professionals and executives. Feedback from these groups opened our eyes and gave us the confidence we needed to build a platform that would allow us develop for years to come.
Why Fitness Assessments You Ask?
It's a valid question, why do we focus specifically on fitness assessments? Because results are valuable. Results are not only demanded by personal training clients, but it is what separates mediocre trainers from fitness professionals. If you want to get stronger, faster, leaner, and look great butt-naked, then you need a coach who has the skill set and tools to get you there.
Results don't come from better scheduling, easier payments, workout cards, or even an exercise-library.  Results are simple, measurable, achievable, relative, and time-bound metrics that provides insight into your physical fitness and allows a personal trainer to prescribe an ideal training program.
That's it. No fluff. No bullshit.
Trainers don't need a better calendar or way to collect money. Trainers need a way to communicate results-based progress with their clients.
What Fitness Assessment Are Built into TrainerMetrics?
TrainerMetrics Beta is equipped with assessments that personal trainers need to better serve their clients. This includes assessments for basic data, internal health, body composition, cardiovascular capacity, and biomechanics:
Weight
Body Mass Index
Blood Pressure
Body Fat %

3 Site Skinfold (Jackson/ Pollock)
4 Site Skinfold (Jackson/ Pollock)
4 Site Skinfold (Durmin/ Womersley)
7 Site Skinfold (Jackson/ Pollock)
Bioelectrical Impedance
Body Girth

Body Mass

 Ideal Weight
Target Fat Loss
Fat Mass
Lean Body Mass

Circumferences

Waist to Hip Ratio
4 Site Sum
8 Site Sum

Resting Heart Rate
V02Max

1 Mile Walk
3 Minute Step Test
1.5 Mile Run
Bruce Protocol

Biomechanics

Overhead Squat Assessment
Sit & Reach
Trunk Lift
These fitness assessments give a personal trainer or coach the basis for in-depth fitness testing. The perfect amount to get a better understanding of where your client's fitness is and what low-hanging fruit to start with.  We realize that professionals need an even larger selection of assessments to choose from including athletic performance testing. Patience, we will get there.
How Are These Assessments Going to Make Me a Better Personal Trainer?
How often do you take measurements,  calculate assessment results, chart progress over time, and make copies to share with your client? My guess is never and that's just being realistic.
Although if you could take an old client assessment card, quickly upload measurements to a system, and print out reports or share the digital record would you agree that this would give you an edge? Of course it would, and its simply because until now personal trainers haven't had a way to accomplish this. As long as you have an internet connection, TrainerMetrics can be accessed from any device or computer making it an irresistible benefit to your personal training business.
Increase Your Efficiency as a Personal Trainer
Whether you work for a gym or are on your own, time is money. Our goal is to save you time by providing tools that you actually need. Sign up for a free TrainerMetrics account, import old client assessment data, and give your customers the results they have been asking for.
Physical Fitness Assessment Card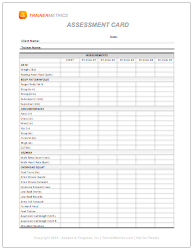 Print Off & Batch Upload Assesments
Complete 360 degree client asssment card.
Body Fat%, VO2Max, Overhead Squat to name a few.
Stay organized and save data.
---
---