Fitness Data
Aggregate Gym Data By Leveraging Personal Trainers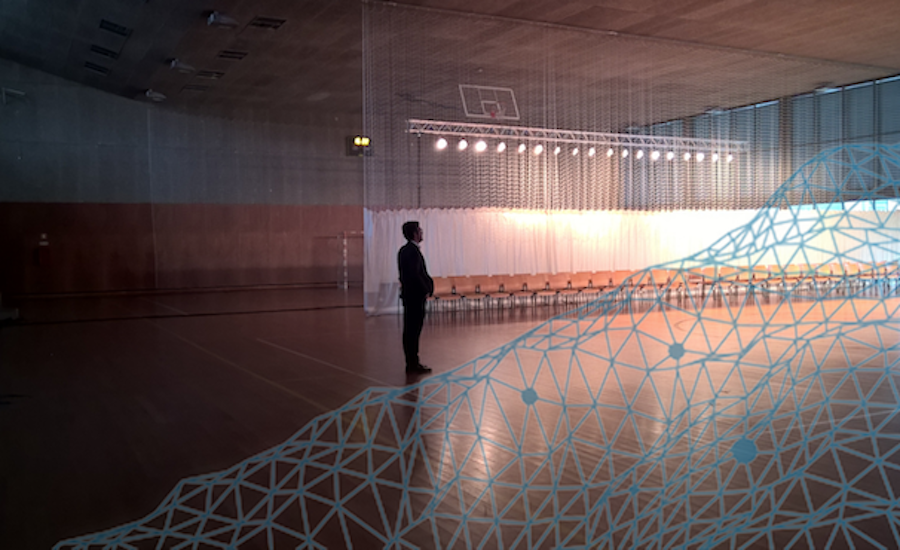 As a gym owner, manager, or personal training director do you agree that more information on your members would give you an edge on retaining their business? If you said "yes", then you're probably telling yourself, "it takes too much time and money to implement new workflows for my staff to collect mass amounts of gym data". What if I told you, your staff is already doing the leg-work…
My guess is that you are already using a CRM tool to onboard new members, charge monthly fees, and even schedule personal training sessions. The last thing you're worrying about is integrating your business metrics with the newest and trendiest wearable bracelet on the market. And rightfully so, where is the Nike Fuel Band these days?
Trends come and go but what is here to stay are services. No matter how much your members are downloading the latest personal training app to get new workouts, nothing compares to the experience of working with a professional who can teach them about their body and motivation for success.
Are your personal trainers storing client records in filing cabinets?
If you are a semi-reputable company, my guess is that your personal training staff has some way of measuring and storing client data. In the simplest form this is a paper assessment card housed in a filing cabinet. So what's the point?
Digital forms can give you insight.
If your personal training staff are running fitness assessments like skinfold measurements, I guarantee they are not calculating body fat %, lean body mass, ideal weight, nor are they graphing that data and comparing it to population norms. Isn't that valuable for your business though?
It's not your trainer's fault. This takes way too much time and your members are paying a premium for personal training services. Clients don't want to sit there and watch their coach do long-hand math and plot data points on graph paper. All they care about are results.
Instead, what if your trainers took that exact paper assessment card they already use and uploaded it to a database that ran all of the calculations instantly, kept track of client progress, and it was something your members could either get printouts of or login to?
Retain more of your member base through consistent feedback
It makes no sense that fitness professionals have tools to physically train their clients and nothing to calculate or report on their outcomes. Nor does it makes sense that you as a manager can't benefit from this gym data. Are you able to run a business without key performance metrics?
As a personal trainer retaining clients is far easier when I have data to present. What does that mean for gym memberships? The more data you have on your member base – whether they are taking advantage of free fitness assessments or training long term with your staff – a customized services trumps ambiguous workouts.
So, what's the catch? There isn't one.
Using a tool like TrainerMetrics, your personal training staff will be able to provide a premium level of service, but more importantly you have access to this information. Insight into who your most and least fit members is invaluable, although the ability to sell merchandise and market your overall business based on this information is crucial.
Consumer based marketing is an art form and typically costs way too much money. However if you already have basic contact information paired with fitness data, your messaging cannot be more relevant and personal. Whether that information is reporting on progress metrics or gives your members customized corrective exercises to work on, you're far more reputable than your competitors.
What we are saying is, if you have better insight into your member and gym data as a whole, you can make more meaningful decisions about how to customize the member experience and improve your business.
Need better gym data? Get started now
Today's fitness centers are a "dime a dozen," and the big guys like 24 Hour Fitness are already making moves to adapt to new training regimen like activity tracking and functional training. Let's be honest, they're baking a cake and eating it too.
As a small to medium sized business your easiest win is to leverage the tools and information that are already in place. If that means creating a fun CrossFit-inspired workout, or aggregating your gym's data that is already stored in dusty file cabinets, do as you will.
If you are interested in taking advantage of the later, we are happy to help.
TrainerMetrics is built to solve one problem; calculating, analyzing, and managing fitness data. We are currently giving free access to individual trainers as well as learning more from fitness managers and owners about what they need out of a gym data platform.
If you are a gym owner, manager, or personal training director and interested in helping us build out a tool to help your business [Contact us Here].
Although if you are ready to get started with a free personal training account, no one is stopping you. Get started for free now!
Physical Fitness Assessment Card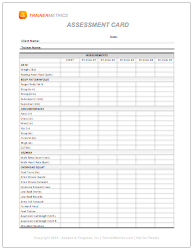 Print Off & Batch Upload Assesments
Complete 360 degree client asssment card.
Body Fat%, VO2Max, Overhead Squat to name a few.
Stay organized and save data.
---
---