Trainer Tools
6 Things Every Personal Trainer Can Do To Quickly Grow Their Client Base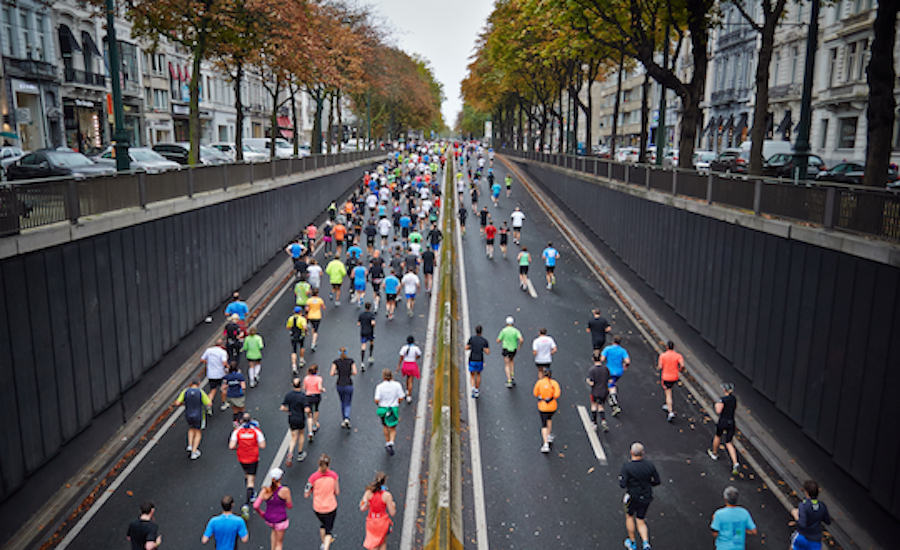 Need more personal training clients? I've never heard of someone say, "no" so it's safe to assume the answer is yes. With that said, there are infinite ways to quickly grow your business, but for time sake let's address the low hanging fruit first.
Regardless of how many clients you have there is always a need to consistently make more money. To keep your business thriving the first thing to concentrate on is increasing the size of your contact list. So what can you do to grow your personal training business? Here are 6 strategies that will help you increase your client base and take your business to the next level.
1. Ask for Testimonials
If you already have a few personal training clients, testimonials are the easiest way you can gain traction when attempting to grow. Testimonials provide "social proof" to anyone that is considering using your services.
Have you ever reviewed something on Yelp? Word of mouth promotion allows anyone with interest a way to gauge if you are worth their time. That may sound harsh, but would you eat at a restaurant with terrible reviews?
The first thing to do before getting started is to make a list of all your personal training client's email addresses. Once you have your list, follow these next steps:
Upload all client information to your email account
Create an email template asking these 3 questions.

Why did you decided to start training in the first place
What results have you experienced
Why have you continued training?

Individually blast off emails to your entire client base
In my experience I have received a 26% response rate from clients. That is, 1 out of 4 people that I've trained for at least 4 weeks has provided me with feedback that I can use to promote my business.
Not only will this information make you feel more confident selling training, having your clients approval will allow you to use this content on websites, flyers, business cards, etc. Developing a sense of trust in your business will reduce the barrier to entry and increase the likelihood of prospects inquiring about your services.
2. Write an Epic Success Story
You can win potential clients over before you even speak to them. A great way to promote your business is by leveraging the progress your current clients have made. Success stories are a powerful tool that showcase your skills and capabilities to prospective clients.
Putting together a single-page success story is extremely easy. Don't believe me? Take a look at Chelsea's story.
These are the assets you will need:
Client testimonial (see #1)
Client progress photos (at least an initial and final)
A graph of client progress (at least one)
Over the course of one year I received more than 20 personal training inquiries from Chelsea's success story that I had printed and taped on the gym wall. Including success stories in your personal training arsenal will demonstrate to potential clients what kind of results they can expect from working with you.
We all know it takes time to create progress graphs, cut your time in half by checking out this free tool to calculate fitness assessments and track clients progress.
3. Delight Your Clients
The only way that your people will be happy to send testimonials or provide you with the information you need to build out success stories on their behalf is if you are actually a professional. What does that mean?
First and foremost, being a professional means that you know how to communicate with various types of people. Let's be real, you are not always going to have the ideal client. Knowing how to communicate with children to seniors and moms to athletes will help you ask for more than just the sale.
Second, know your sh*t. This is not to say you have to be a total nerd about exercise science, but you at least know the material in your certification text. Truthfully the more technical your explanations are the less you can expect your client to recall concepts. However, you should be able to answer common questions your current and prospective clients ask.
Lastly, deliver results. Plain and simple…well not really. This means that your clients are fully committed to the sessions they purchased and are consistently exercising on their own time. Whether they are training three days with you or not, it is much harder to retain a client who doesn't feel a positive difference from exercise.
4. Drop Knowledge
Tips of the day, shared posts, or monthly self-published articles are very useful ways to grow your client base. You may be doing a great job educating your clients each session, but what steps do they take to learn on their own?
It doesn't matter if you are texting tips of the day or managing a full blown blog, every single client of yours should be receiving content from you. Not only does this help you stay "top of mind," the likelihood that your network will share useful information that comes from you is pretty high.
If you really don't have the time to think of new content to share, leveraging existing content can be a great place to start:
Invite all of your clients to at least one social media page or group.
Create a Feedly account (and download the Feedly app or Google Chrome extension).

Add all of your favorite magazines and publications to Feedly (you will see the most up-to-date articles from each source).

Create a Buffer account to schedule out posts to social media groups (and download the Buffer app).

Set your Buffer Schedule (free account allows you to post 10 days ahead of time).
Copy links from your favorite Feedly articles and paste them into your Buffer share cue.

Set a reminder for next week to update your Buffer queue.
This may sound like a little bit of setup work, but once you are familiar with Feedly and Buffer it will only take a maximum of 15 minutes a week to share your favorite content with your clients.
To take it a step further, instead of sharing other people's articles, share your own information. Think of "tips of the day" that are beneficial for anyone interested in fitness and add it to your Buffer queue. You don't need a link to an article, a simple text post is good enough.
5. Acquaint Yourself with Local Organizations
Getting involved in community organization will get you out of the gym and into the limelight of those who may have not even considered thinking about personal training services. Building relationships within or outside of the fitness industry can lead you to prospective clients as well as positively impact your community.
One example is by participating in the local boys and girls club. The fact that you are well versed in health and fitness means that you can easily apply that knowledge to a variety of sports and activities. Not to mention, when you do a great job at that site there is a good chance parents will start asking if you can work with their child(ren) individually.
The main point is, if you are acquainting yourself with your community regardless if it is a club, organization, internship, or second job you are getting yourself out there. And if anyone that you are directly or indirectly communicating with could benefit from the services you provide, they will know who to approach.
6. Ask for Referrals
This one speaks for itself. However asking a client, friend, or family member for a referral is not a "one and done." Chances are if you just ask your clients if they know anyone who might want to train, they'll nod their head and more than likely forget about it.
Send your client an email explaining to them that you're interested in finding new clients that can benefit from your services.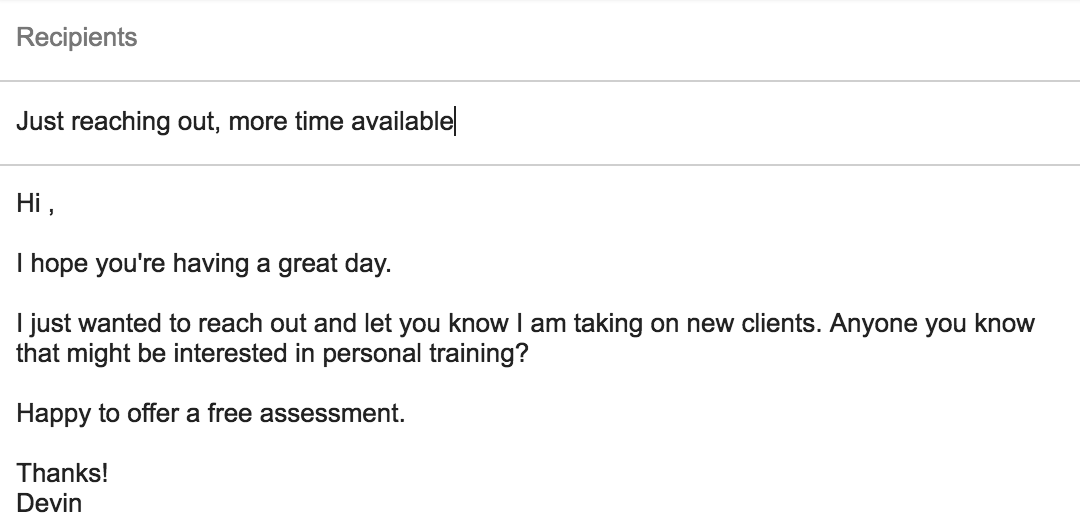 I'll even make it easier, use this link to send the email above to at least one of your clients right now. I dare you.
If you feel awkward asking someone for business, get them excited about it. Create an incentive for them to refer a new client. You can offer a discount on training sessions to your existing clients or create custom exercise programs for those who aren't. Getting an incentive program established early on will help grow your business exponentially.
Conclusion
None of any of what you just read will work if you aren't hungry. Personal training is not a job offer that guarantees full time status. Most new trainers struggle to train 10 sessions a week. Taking action on growing your business is the only way it will happen.
To build a strong client base of people who frequently train takes a consistent flow of leads that you can sift. Building a foundation initially takes a huge effort, but who doesn't want to make more money.
So here's the challenge, pick 3 out of these 6 things to do right now to quickly grow your client base. Got your 3? Ok, now use this sheet to track how well each of the 3 ideas are bringing in new clients over the next four weeks. And don't forget to keep track of all of those clients and non-clients that are helping you get there so you can properly thank them.
---
---